Lost Civilisations
Links to sites dealing with Atlantis and other legendary lost civilisations.
Peter Marshall is a philosopher, historian, biographer, poet and travel writer. He has written fourteen highly acclaimed books which have been translated into ten languages. An occasional broadcaster, his circumnavigation of Africa was made into a 6-part TV series and his voyage around Ireland into a radio series. Recognized as a profound and original thinker, he has made a major contribution to fields as diverse as anarchism, ecology, alchemy, astrology and archaeology. In his life and writing, he has been motivated by a search for meaning and truth and by a wish to expand freedom so that all beings can realize their full potential.
---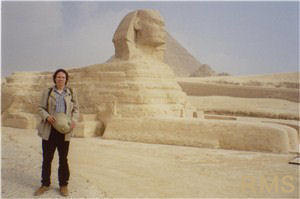 The homepage of geologist Robert Schoch who's dating of the Great Sphinx was of massive import in the work of John Anthony West and subsequently Graham Hancock and Robert Bauval.
---
This site presents Jim Alison's fascinating investigation of the geodetic relationships between ancient cultural centres, and highlights 'Atlantis-candidates' suggested by geodetic analysis.
---
This one is big on enigmas! It also gives a history as to the research done into Atlantis since Plato's first musings in Timaeus and Critias, complete with a diagram of how it would have looked according to his descriptions. For those who remain unconvinced by the whole thing, there is a counterpoint in the form of a skeptic's dictionary!
---
The creators of this site believe Atlantis is to be found beneath the South China Sea, and have attempted to provide evidence to support this claim.
---
Graham Hancock's team is not the only group diving around Yonaguni.
This site includes an in-depth look at Voices of the Rocks, the latest book from Robert Schoch (the geologist who worked with John Anthony West on the geological redating of the Great Sphinx of Giza).
Schoch's views on Yonaguni seem to change somewhat unpredictably. In the BBC's (corrupt and dishonest) Horizon programmes on Atlantis, he declared the Japanese underwater site to be entirely natural, yet in his book, Voices of the Rocks, he countenances the possibility that it may have been worked on by human hands.
---
Site design by Amazing Internet Ltd, maintenance by Synchronicity. G+. Site privacy policy. Contact us.
Dedicated Servers and Cloud Servers by Gigenet. Invert Colour Scheme / Default