Did Extraterrestrials Create the Maya Calendar? (cont.)

By Thomas Razzeto
The Special Configuration of the Sacred Tree
Below is again the screenshot of the sacred tree over the Maya on the winter solstice of 2012.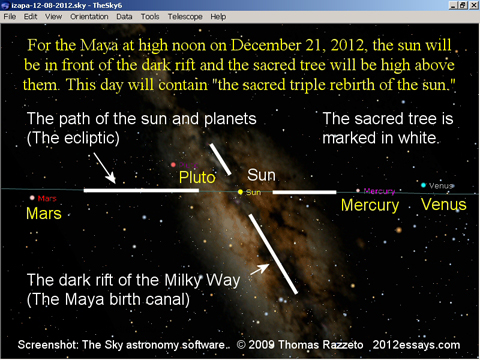 Here we see that the horizontal crossbar is composed of Mars, Pluto, the Sun, Mercury and Venus with the Sun almost exactly between Mars and Venus. The symmetry and beauty are remarkable. By the way, Pluto is never visible to the naked eye and I don't think that the Maya were tracking Pluto; I just labeled it for completeness since it is actually there.
But the question for us now is this: Did the Maya know that the sacred tree was going to look like this? Out of curiosity, let's take a look at the configuration of the sacred tree over the Maya at high noon on the winter solstice of a few other years.
Here it is for 2008:
And here it is for 2009:
Here is 2010:
Here's 2011:
We have already seen 2012 so let's look at 2013:
And here is 2014:
And finally, here is 2015:
I could go on and on with other examples but the point is that the Maya picked 2012 because of the visibility, balance and beauty of the sacred tree. I know that it doesn't sound very scientific, but I think that one of the reasons that the Maya picked 2012 is because the sacred tree will be so beautiful in that year. All the examples have the sun in the Maya birth canal on the same day as the winter solstice. This is what makes the triple rebirth of the sun. In other words, the triple rebirth doesn't just happen once every 26,000 years. If the Maya were only concerned with the triple rebirth of the sun, they could have picked any of these years along with many others. But they picked 2012. In my opinion, this is like picking a rose from the garden. Some roses are just nicer than the others but they are all still roses. The Maya could have picked any of these years to convey the same message of transformation and rebirth. Was it just luck that the Maya picked a configuration that will be so beautiful? Given the amount of precision demonstrated so far by whoever created this calendar, it seems to me that they were also aware that in 2012, the sacred tree would have this beautiful configuration.